Yahoo's Weather App for iPhone Debuts On The App Store: Looks Amazing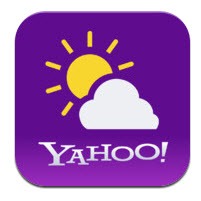 I love the way different iOS app developers have thought of creative ways to represent the weather via weather apps for iOS.
Out of the ones available on the app store, my personal favorites are Weathercube, Solar and Weather+ and I have shed a couple of pounds on trying out these weather apps. The latest addition to my favourites is the Yahoo Weather App which is by-far one of the most elegantly done weather apps out there – its slick, well-presented and very concise. And, it's FREE! [Download Link]
As you would already know, Yahoo supplies the weather data for the stock weather app for iOS devices. Today, Yahoo announced its own standalone weather forecast app for iPhone and iPod Touch. And it wasn't too long after its launch that I installed it on my iPhone and I must say, it looks amazing.
It is a really good weather app that makes efficient use of the space to present the right amount of information along with some beautiful photos capturing the selected city's soul. Yahoo has made possible by bringing together two of its great services – the Yahoo Weather and its photo sharing service Flickr.
Yahoo weather app not only shows you the weather conditions (and the forecast) of the selected city but it also intelligently pulls up a relevant picture from Flickr which matches the time and weather conditions prevailing outside.
Plus, it makes best use of the touch-screen gestures which makes the user experience even more interesting. Like, you can swipe left-right to select different cities. You can swipe down to see hourly and five-day forecast, a satellite map, more details like humidity, visibility and feel temperature.
You can scroll down further to see the precipitation forecasts, Wind & Pressure conditions, and where the sun and moon are in the cycle – all shown using beautiful graphical animations.
From the release notes:
The forecast is beautiful.
See the weather like never before – only Yahoo! Weather combines stunning photos with the most accurate forecasts.
Favorite Features:
– Beautiful photos that match your location, time of day, and current weather condition
– Detailed weather information and forecasts
– Interactive radar, satellite, heat, and wind maps, plus sunrise/sunset times
Tips:
– Swipe vertically for detailed weather information
– Swipe horizontally for favorite locations
– Submit photos to the app at Project Weather on Flickr
Check out some of the screenshots from Yahoo's take on the iOS weather app below (click to enlarge):
Doesn't it look gorgeous?
You can download it for free from the App Store and chances are, you could end up using the iOS stock weather app! Well, it's already made it to the first screen for me! What about you?