Moves App for iPhone to Track Your Running, Walking or Cycling Activities [Details & Review]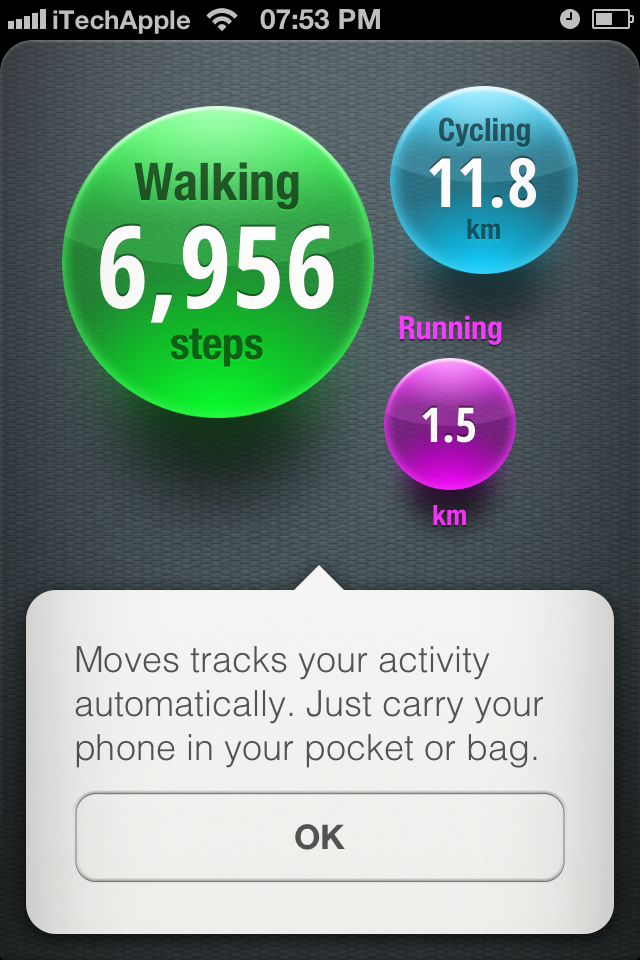 If you have been planning to buy a health & fitness gadget to track your running, cycling or walking progress, you would already be considering some of the best options available in the market like Nike+ Fuelband, Fitbit, etc. which range anywhere between £40-140.
And then, you also need to buy compatible tracker apps (Nike+ Running, Runkeeper, Runtastic, etc.) based upon your smartphone platform. Again, you need to shed anything from £0.99 to £1.99 to buy those apps.
Here, in this article I am going to write about an amazing iphone app which is a great replacement for the above health and fitness gadgets and the best part is you don't have to spend a single penny on that!
Well, I am serious!
I am writing this post to introduce you to a beautifully done Health & Fitness App called 'Moves'.
Moves lets you know where, when and how much you've moved in a day – just by keeping a phone in your pocket.
Moves is a free iPhone pedometer app which uses sensor and location information from your iPhone to recognize activities, routes and places. The data is uploaded to 'Moves' servers where it is processed to calculate your daily stats and create a storyline based on your whereabouts. And believe me the presentation of stats is interesting yet simple. Check out for yourself!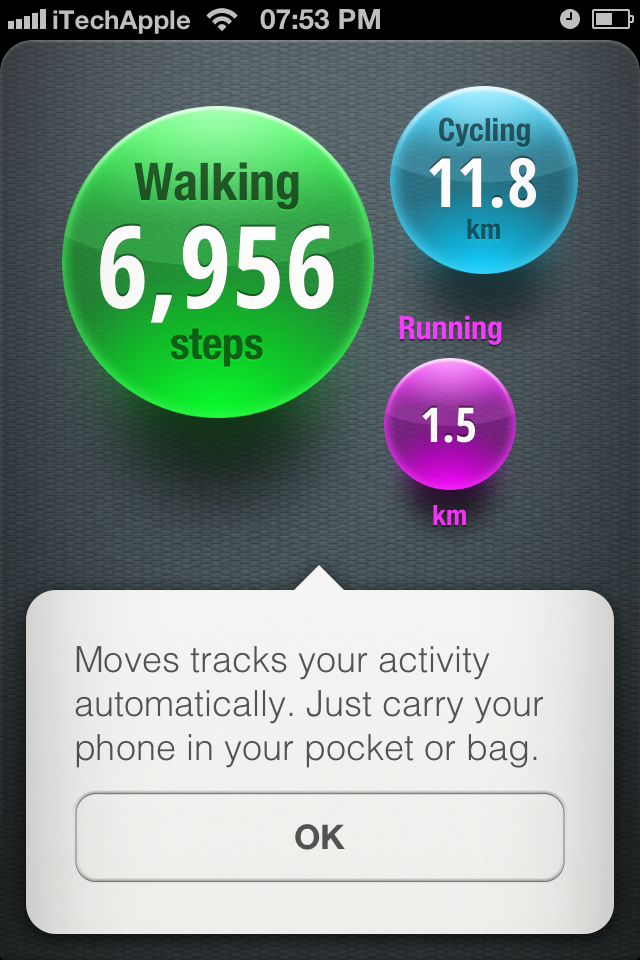 How Moves works is pretty simple as well!
You need to just install the app on your iPhone, drop it in your pocket, or bag and go. Moves automatically tracks your walking, biking, running and cycling activities. No need to log-in, no check-ins, or anything else!
As of now, Moves recognizes activities like walking, cycling, running and also all motorized travel as 'transport'. The Moves team is still working on other activities and you may see updates in future to introduce new activities.
I must say, the Moves team have done a fantastic job with the design showing only the things you need to know (details that matter!), without any extra clutter of information right in your face. The UI is clean, simple and intuitive. And as I said, you don't need to buy any gadgets for this app to work. So, when you can get things done free, then why pay? 😉
With Moves, I love being able to forget about the app until when I finish my day and I get a summary of what I have been upto the whole day. It shows me my whereabouts for the whole day – what places I visited and what was the mode of my commute, all beautifully laid out in a quick and easy to read timeline.
Seeing your everyday exercise helps you think about your life in a new way. Start with small changes that can lead to healthy habits and losing weight naturally.
Main Features of Moves iPhone App:
Brilliantly designed with no extra clutter on the app screen – you see only the things that matter the most!
Moves is a free iPhone pedometer that helps you get fit by walking more. You can see a log of how many steps you take during the day, aim for a daily goal each day (10,000!?) for a healthy life.
Moves is always on – you don't need to worry about starting or stopping it. You just need to install the Moves App, switch on 'Location Services' and Moves will record any walking, cycling and running activity you do. You do need to keep your phone in your pocket or your bag. 😉
Moves creates an interesting Storyline based on your whereabouts during the whole day. It is an automatic diary of your life. Your daily storyline and maps show where, when and how much you move.
Share a summary of your activity through Email, Twitter, or Facebook.
Below are some more stills from the app:
Moves is a great app which might motivate you enough to start running, cycling or walking just to see the brilliant results it would show when you finish your day!
The only drawback is – because this app needs Location Services to be always running to track your whereabouts, your battery may drain out sooner than it generally does, so do make sure you charge it overnight and you shouldn't have any issues with it running all day. The Moves team claims your iPhone should last for 14 hours with Moves app running in the background along with your daily use. More details below and here:
A day of typical use results in a battery life of 14 h

(Tested with the iPhone 4S)

Moves running continuously in the background
Phone calls: 40 min
Internet browsing over 3G: 30 min
Email checking on in the background
Listening to music: 1.5 h
Maps usage: following turn-by-turn navigation for 20 min
Playing Angry Birds: 15 min
Podcast downloads over Wi-Fi: 130 MB
Or, if you still have any issues with your battery back-up, you may also consider buying some extra battery juice from amazon or ebay!
Are you using Moves app? Do you like it? Do let me know in the comments below!