BatteryPeek Jailbreak Tweak to Control When Battery Percentage Shows on Your iOS Device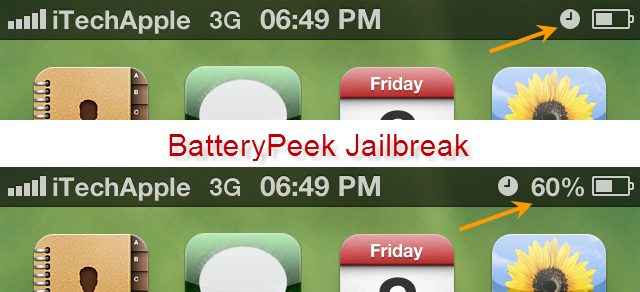 If you have used evasi0n to jailbreak your iOS 6 device this week, I am sure you would have installed your favorite tweaks already. If you haven't jailbroken your iOS device yet, check out our simple guide to jailbreak using evasi0n jailbreak tool.
Well, I have installed mine, and as a true jailbreaker, I am always hungry for more!
I found a simple yet-sometimes-useful jailbreak tweak which I wanted to share here at iTA. It's called BatteryPeak and was released on Cydia today.
If you always want to know about how much battery is left on your iOS device in percentage, but still hate the amount of space it takes on the status bar (especially when you have many other JB tweaks requiring more space), this jailbreak tweak is just right for you!
BatteryPeek jailbreak tweak makes use of an Activator gesture to show your battery percentage for a glance and then hide it, freeing the extra space on the status bar. So, the battery will be shown just when you need it and then goes away in a couple of seconds.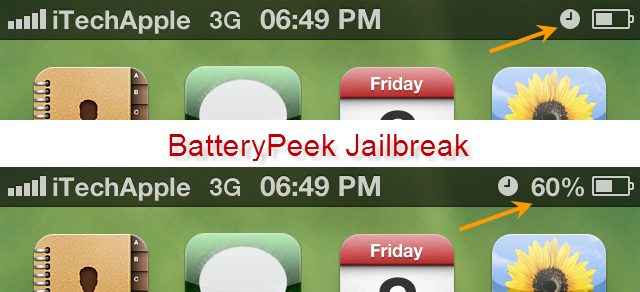 It's completely your choice which Activator gesture you want to use to control the display of battery status (in %). One of the recommended gestures which you can assign via activator is Settings >> Activator >> Anywhere >> Status Bar >> Single Tap Right
BatteryPeek is a free jailbreak tweak and is hosted with BigBoss Repo in Cydia. So, download BatteryPeek now and give it a try as you have nothing to lose for a free jailbreak tweak 😉
Do share your feedback about BatteryPeek jailbreak tweak in the comments below!